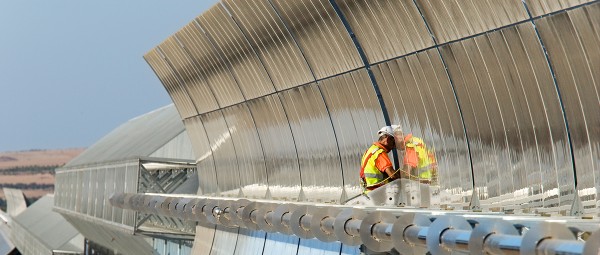 Solar
The energy provided by the sun every day is equivalent to the world's entire annual energy requirements. Faced with the rising pressure of climate change, an increasing number of countries are now turning to solar power as a means of generating electricity. Solar power plants must be particularly effective in order to achieve the maximum degree of efficiency and to ensure that this technology is marketable without government subsidies in the future. As a development partner and supplier, Schaeffler is currently involved in several projects, for example for parabolic trough, solar tower, Fresnel, and Dish Stirling power plants. Schaeffler offers a varied range of rolling and plain bearings suitable for the tracking systems of solar power plants. Our solar power plant engineering team has extensive application engineering expertise and optimizes bearing positions and adjacent constructions in conjunction with customers.
The tracking systems of solar power plants must fulfill seemingly contradictory requirements in order to facilitate the maximum efficiency and high cost-effectiveness of the plant. They must be robust, compact, and weatherproof even during extreme temperature fluctuations, dust and wind as well as reliable and resistant to wear. Rolling and plain bearings from the INA, FAG, and INA brands come into play irrespective of whether the power plant is photovoltaic or uses solar thermal technology, or if a single or double-axis tracking system is involved. These bearings have high rigidity, high load carrying capacity and low friction and operate reliably even under extreme operating conditions.
Various bearing types can be considered, depending on the type and design of power plant. The bearings are categorized according to their suitability for azimuth and elevation (A/E) axes below:
Photovoltaics/
Concentrated photovoltaics
Solar thermal systems
Solar thermal systems
Solar thermal systems
Solar thermal systems
Photovoltaic
power plants
Dish Stirling power plants
Solar tower power plants
Parabolic trough
power plants
Fresnel
power plants
Angular contact roller bearings AXS
A/E
A/E
A/E
Housing units/Radial insert ball bearings
E
E
E
Track rollers/Yoke type track rollers
A
A
E
Spherical plain bearings
E
E
E
E
E
Plain bearing bushes/shells*
*Elgotex®, Elgoglide®, metal-polymer composite)
E
E
E
E
E
Double axis (azimuth and elevation)
Double axis (azimuth and elevation)
Double axis (azimuth and elevation)
Single axis (elevation)
Single axis (elevation)
Solar thermal concentrating power pants
Solar thermal plants utilize the heat from the sun's rays. The sun's rays are concentrated via reflectors in an absorber to heat a fluid that generates water vapor using a heat exchanger.
Photovoltaic plants with tracking systems
Tracking systems for photovoltaic plants considerably increase the efficiency of the process of collecting the sun's energy. In conventional widths, photovoltaic plants with tracking systems facilitate an increase in performance of up to 40% compared with static units.
From application advice to surface coating
Application advice, calculation and design, technical testing, tribology, and surface coating
Share Page